24th November 2022: EUinLAC Conference in Concepción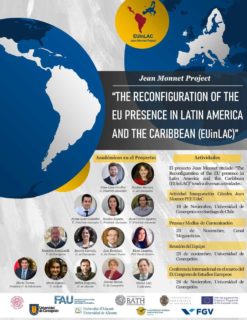 Welcome back to the EUinLAC project about the redefinition of the presence of Europe in Latin America and the Caribbean!
We are pleased to announce an upcoming event of the Jean Monnet Project EUinLAC. After the (online) conference in Nuremberg, Germany in summer 2021, this year's conference will take place in Concepción (Chile) on 24th November: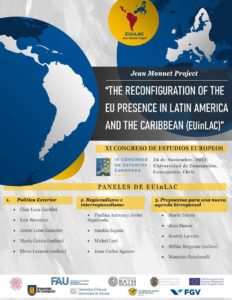 For more detailed information, please click on the poster to view it. / Para obtener información más detallada, haga clic en el cartel para verlo. 
We bring together 14 experts from Europe and Latin America to discuss topics such as the environment, paradiplomacy, science, technology, innovation and the foreign policy of Germany, Spain, Italy, the UK, Brazil and the Andean countries.
Bienvenidos de nuevo al proyecto EUinLAC sobre la redefinición de la presencia de Europa en América Latina y el Caribe!
Nos complace anunciar un próximo evento del Proyecto Jean Monnet EUinLAC. Después de la conferencia (en línea) en Nuremberg, Alemania, en el verano de 2021, la conferencia de este año tendrá lugar en Concepción (Chile) el 24 de noviembre!
Reunimos a 14 expertos de Europa y América Latina para debatir temas como el medio ambiente, la paradiplomacia, la ciencia, la tecnología, la innovación y la política exterior de Alemania, España, Italia, el Reino Unido, Brasil y los países andinos.